Elite Chiropractic & Rehab Techniques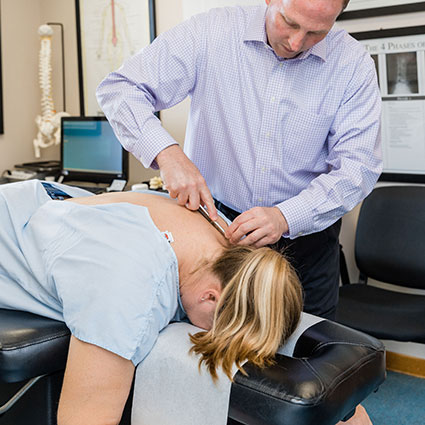 At Elite Chiropractic & Rehab, we pride ourselves on getting the best possible results for patients. Every day, Dr. Brown is driven by the trust his patients place in him to help them. He is often sought after for his excellence in care and has been voted the Best Chiropractor in Bloomington by opencare.org.
Dr. Brown has had the honor of speaking multiple times for Parker® Seminars, and also was a featured monthly columnist for The Daily Leader in Pontiac, Illinois.
The Dr. Brown Technique
As a detective of the spine, Dr. Brown will seek to get to the root of the problem and then will provide the method or methods that will get the best results. We use The Dr. Brown Technique which is a hybrid of all the techniques he's proficient in to create a plan for the patient.
I combine a number of techniques with my assessment to provide a customized hybrid approach."
Dr. Brown
You may wonder why Dr. Brown offers so many techniques. The short answer: he loves to learn! Additionally, each technique offers something unique to help the patient!
With the following hands-on methods, we find specific vertebrae that are misaligned (which are known as "vertebral subluxations"). And we apply a manual force to those vertebrae and adjust them and put the bone back in place and take the pressure off the nerves, allowing the nervous system to operate as designed.

Flexion-Distraction
This is a gentle, non-force adjusting approach that uses a special table. The movements of this table help traction the spine, opening up compressed spinal discs and reducing pressure on facet joints of the spine.
Diversified
With this commonly used manual technique, Dr. Brown identifies the malposition of one or more spinal bones and then delivers specific manual thrusts.
Gonstead
The Gonstead analysis is a very specific approach that helps us get excellent results. This method focuses more on specific vertebrae and precision. We've found that the X-ray analysis has worked incredibly well with patient care. Gonstead utilizes some great techniques that are different from some of the other methods you'll find.

Pettibon Institute
This method focuses on the correction of the spine but does it in sections. With this approach, traction maneuvers are often used. Dr. Brown is one of very few practitioners in the area who is proficient at this technique.
Motion Palpation Institute
One of the reasons we like this technique is the MPI has great techniques with regard to side posture adjustments. With this method, the patient is placed on their side and adjusted in the most comfortable, neutral and efficient way possible. This low back adjustment technique provides optimal comfort for the patient. This technique also makes biomechanical sense as it looks at the motion / function of the spine.

Spinal Decompression
This therapy is ideal for patients who have neck and arm pain or low back and leg pain as a result of a disc problem. Often decompression will be more effective than chiropractic when it comes to treating these discs. At the very least, spinal decompression will be recommended in conjunction with chiropractic care for these types of injuries.
Graston
If you have chronic pain or stiffness, Graston is highly beneficial. This instrument-assisted soft tissue mobilization technique relaxes the muscle with massage and reduces scar tissue and fascial restrictions.
This technique is used in cases when there's been an extensive amount of soft tissue injury and chiropractic alone isn't going to completely help with the muscles or chronic stiffness. We use Graston a lot with someone who had a motor vehicle accident and experiences significant stiffness.
Dr. Brown is only one of two chiropractors in town that does Graston that he's aware of.
Activator Methods®
Dr. Brown is the only chiropractor within 60 minutes of the Bloomington-Normal area that has been rated in the Activator Methods technique. He has been Advanced Proficiency rated since 2012, as well as Proficiency Rated since 2010. Patients often seek out this method as it's gentle yet highly effective.
The Activator Methods technique is geared toward patients who have a lot of arthritis in the spine. This approach is also ideal for patients who are older or just don't like the manual adjustments that are common with other chiropractic offices. Activator is an incredibly gentle, precise and efficient technique that patients often request because they love it.
Dr. Brown also will often use Activator Methods analysis to determine where to apply a manual adjustment even though Activator isn't a manual method.

Impulse® Adjusting Technique
On a spectrum of techniques where one side is manual and the other is instrument-assisted, the Activator is the most gentle of adjustment approaches. In the middle of that would be the Impulse Adjusting Technique. This method uses a small handheld instrument to deliver repetitive thrusts over sections that are restricted.
Impulse is a middle-of-the-road approach for those who don't want a forceful manual adjustment but want a little more force than what the Activator provides. Impulse is a nice happy medium in the middle.
The Importance of Imaging
At Elite Chiropractic & Rehab, we don't guess, but instead test for certainty. We take scans of the spine to see how the nervous system is functioning and take X-rays to see how the structure looks. Then we mark up the X-rays and then combine a number of different techniques to provide a customized approach.
Book an Appointment
With our broad array of adjusting techniques, we can provide the ones that will get you the best results possible. Contact us today to schedule an appointment.
CONTACT US »
---
Elite Chiropractic & Rehab Techniques | (309) 663-9900