New Patients at Elite Chiropractic & Rehab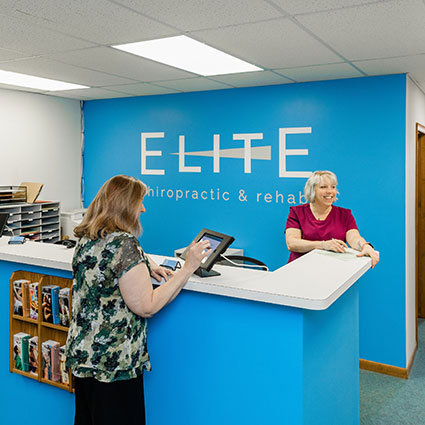 Welcome to Elite Chiropractic & Rehab! You'll love the energy of our warm, inviting office. Our friendly team is here to give you an excellent experience. We know your time is valuable and respect it by seeing you promptly.
Day One
The necessary paperwork can be found above and submitted online. When you arrive, please bring in identification and your insurance card. You'll be given an office tour, then meet Dr. Brown to do a consultation, examination and have X-rays taken. The latest technology is used for scans that show your level of nervous system health.
This visit will take 45-60 minutes.
Day Two
When you return, you'll receive a full report of Dr. Brown's findings. You'll have a chiropractic adjustment, and we'll go over all insurance and financial information.
This visit will take about 30 minutes.
Following Up
At your regular appointments, the time that you're here may vary. If you have only a chiropractic adjustment, it usually takes about five minutes. If you have a therapy alongside the adjustment, it may take up to 30 minutes.
We always keep your goals in mind, working as quickly as possible to get you back on track to better health.
Some insurance coverage is accepted at our office, and we're a preferred provider for Blue Cross Blue Shield PPO plans. Contact us today to get started!
CONTACT US »
---
New Patients at Elite Chiropractic & Rehab | (309) 663-9900