About Elite Chiropractic & Rehab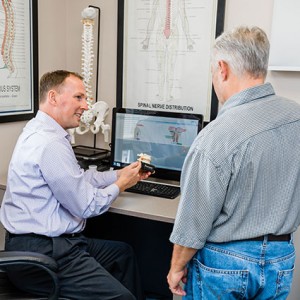 At Elite Chiropractic & Rehab we want to improve the lives of our patients through better health. While many people think of chiropractic as a way to relieve back and neck pain naturally it does so much more—it helps patients achieve and maintain optimal health.
Patients are often surprised by how much progress they can make if they stay on track with chiropractic care."
Dr. Robert Brown
Caring for His Community
Dr. Brown has been practicing in Central Illinois since 2001 and has been in this location since 2011. He chose Bloomington because he grew up here and loves our beautiful city. Dr. Brown also attended undergrad at Illinois State University before getting his Doctorate of Chiropractic from Northwestern Health Sciences University.
His family also calls our city home, which is another reason why Dr. Brown has planted firm roots here. "I like that Bloomington is neither too small nor too big and very family-oriented. I love living in the community that I serve."
Living by the Golden Rule
At our patient-focused chiropractic office, we treat patients how we would want to be treated. Here, we're always polite, respectful and friendly. We're also upfront about cost so there are no surprises. Here, we always have each patient's best interest in mind.
Patient Success Stories
One of our patients had come here after having been in pain for many months; nothing worked for him. He also couldn't eat and had lost 35 pounds. The patient had never tried chiropractic care. Within the first visit to our office, however, he got his appetite back. His sleep improved and his life had improved dramatically.
Another patient is an athlete at a local university who was back to 100% within a couple of visits with the chiropractor—all because the young patient took his coach's advice to see a chiropractor. This athlete was so pleased with the results he got that he started referring his teammates here too.
For Dr. Brown, it's highly gratifying to make a difference when other people aren't able to help.
Book an Appointment
Take that first step toward feeling your best! Contact us today to schedule an appointment at our chiropractic office.
---
About Elite Chiropractic & Rehab | (309) 663-9900